LIKEPAI Villa video intercom kit radar induction contact-free call fingerprint identification linkage unlock wired networking
LIKEPAI Villa video intercom kit radar induction contact-free call fingerprint identification linkage unlock wired networking
Product Description
Air Call: 10-999mm (Users can adjust the distance accurately and flexibly)
Device wake up: 1-2 meters wake up, and there is a welcome voice broadcast
Coercion alarm: support 6-digit coercion password alarm to smart terminal
Stay alarm: long stay at the door, support host alarm, extension alarm and simultaneous alarm
Unlock password: support password unlock
Access control function: support IC card to open the door, more than 80,000 cards local data storage
Fingerprint unlocking: support a large capacity of 500 local fingerprints
Clock: Support RTC, NTC Internet time correction
Address Book: Support users to add or edit the address book by themselves
Storage: support TF card storage
Call: The main unit supports calling 99 extensions at the same time
Features: Support remote wireless unlocking (optional). Support wireless doorbell to call indoor unit (optional)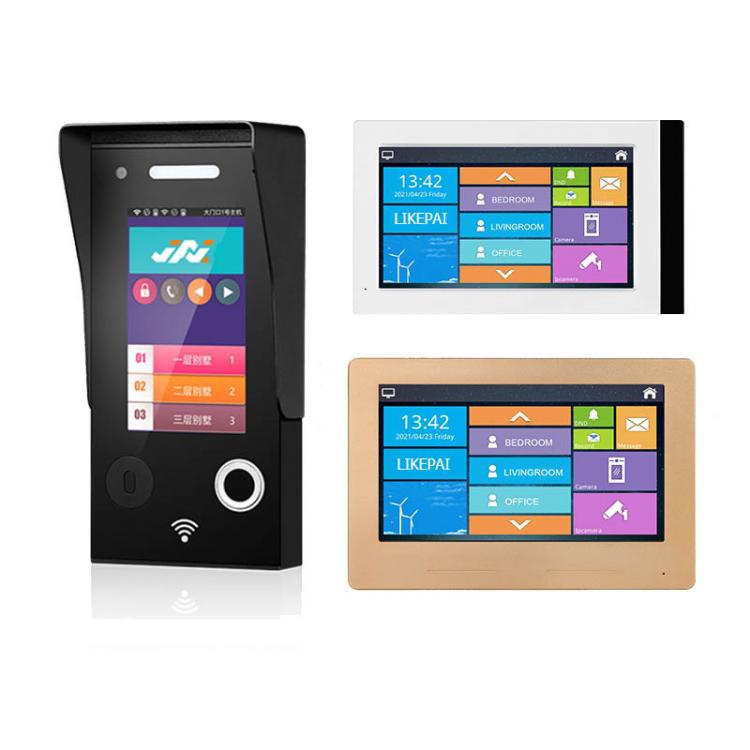 Applicable scenarios:
1. It can be used independently and installed at the door to realize unlocking by swiping card and Tuya APP. The visitor presses the call button to make a video call with the user's mobile APP, and the owner can remotely unlock the mobile phone lock.
2. It can be used with indoor screen. The indoor screen can actively monitor the real-time monitoring screen of the door, and can also unlock the door. When someone comes to visit, the indoor screen can conduct video intercom with the visitor and open the door for the visitor.
3. It is suitable for multi-user scenarios in buildings. The face recognition video intercom can customize the multi-user address book. Each home is equipped with an indoor screen, and visitors will be automatically assigned to the corresponding user mobile app.
Specification
| | |
| --- | --- |
| item | value |
| Special Features | Motion Detection, Abnormal sound detection, RESET, Alarm I/O, Waterproof / Weatherproof, Two-way Audio, NIGHT VISION, Built-in Siren, Other |
| Customized support | Software reengineering, OEM, ODM, Customized logo, Online technical support |
| Place of Origin | China |
| | Guangdong |
| Brand Name | LIKEPAI |
| Model Number | H9 |
| Type | fingerprint, Other |
| Air Call | 10-999mm (Users can adjust the distance accurately and flexibly) |
| Device wake up | 1-2 meters wake up, and there is a welcome voice broadcast |
| Coercion alarm | support 6-digit coercion password alarm to smart terminal |
| Stay alarm | long stay at the door, support host alarm, extension alarm and simultaneous alarm |
| Unlock password | support password unlock |
| Access control function | support IC card to open the door, more than 80,000 cards local data storage |
| Fingerprint unlocking | support a large capacity of 500 local fingerprints |
| Clock | Support RTC, NTC Internet time correction |
| Address Book | Support users to add or edit the address book by themselves |
| Storage | support TF card storage |
| Material | aluminum alloy body of the whole machine |
| Operation mode | tempered glass, full-screen touch, precise induction trigger |
| Display | 4.3 inch IPS full viewing angle TFT color LCD display |
| Resolution | 480*272 |
| Processor | 900MHz 32-bit ARM9 CPU |
| Memory | 512MB |
| Operating system | Linux operating system |
| Waterproof level | IP65 waterproof |
| Camera | HD 1.3 million pixels |
| Connection method | LAN/WLAN, support wired and WiFi wireless connection methods |
| Network Configuration | Support Dynamic DHCP\Static IP |
| Supported protocols | TCP/IP, UDP, RTSP, SIP, ONVIF protocol |
| Video decoding |  H264/720P |
| Audio decoding |  G.711 |
| Ringing | electronic ringtone ≥ 70dB |
| Working voltage |  DC12V |
| Working current | ≤ 350mA |
| Standby current | ≤ 300mA |
| Working temperature | -20℃ ≥+70℃ |
| Maximum power consumption | < 5W |
| Installation size | 180*85.5*23.5mm wall mounted |