Villa two-way visual intercom TuyaSmart face recognition HD monitoring linkage unlocking access control ROHS certified camera H8-ROHS H8Tuya
LIKEPAI Villa two-way visual intercom TuyaSmart face recognition HD monitoring linkage unlocking access control ROHS certified camera H8-ROHS, H8Tuya
Essential details
Special Features:

Motion Detection, RESET, Alarm I/O, Waterproof / Weatherproof, Two-way Audio, NIGHT VISION, Built-in Siren, Other

Customized support:

Software reengineering, OEM, ODM, Customized logo, Online technical support

Place of Origin:

Guangdong, China

Brand Name:

LIKEPAI

Model Number:H8-ROHS, H8Tuya

Type:

Face, Other

Recognition function:

Name recognition, ID recognition, mask recognition

APP:

TuyaSmart and SmartLife

Network Configuration:

DHCP, static manual settings

Connection method:

LAN as default/ Wi-Fi & 4G are optional

Housing material:

Aluminum alloy, surface sandblasting process

Operation method:

Full screen touch, tempered glass material panel

Resolution:

800*1280

Screen display:

8-inch HD IPS display

CPU:

RV1109 Dual-core Cortex-A7 and RISC-V MCU

Camera:

Dual 2MP lens, support backlight environment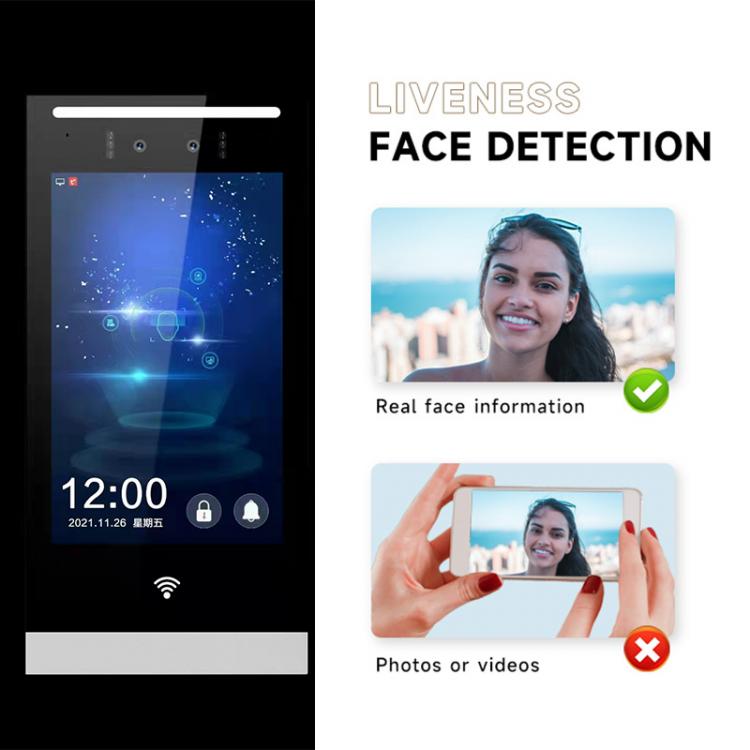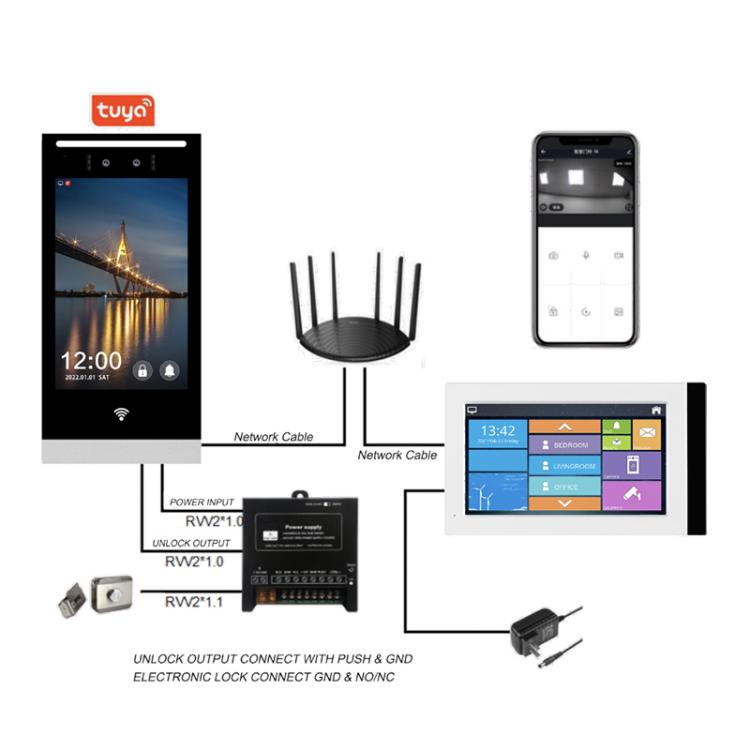 Product Description
8 inch high definition IPS full view angle display; capactive touch screen; Resolution: 800(H)x1280(V)
Support resident list buttons call mode and Keypad call mode
Support Support face, password, and card unlock
Full duplex communication with monitors and mobile app
2MP low illumiance wide dynamic dual cameral; white light fill light and IR fill light
Card capacity: 1,000 cards; face capacity: 1,000 face images;
Face-camera distance: 0.3-3m; Human height: 1.1m-2.4m
Face verfication accuracy>99%; face comparison speed ≤0.2s per person; false recongnition rate<0.1%
Face profiles can be recognized, the profile angle range is 0°-90°
With face detection box; the largest face among faces that appear at the same time is recognized first;
Support liveness detection, the camera light would turn on and display light up
Support duress alarm, tamper alarm
IP65 (Apply silica gel to gaps between the device and the wall
Liquid sodium silicate is recommended)
Outdoor, Support flush mount
Applicable scenarios:
It can be used independently and installed at the door to realize face recognition unlocking, card unlocking, password unlocking and TUYA APP unlocking. The visitor presses the call button to make a video call with the user's mobile phone APP, and the owner can remotely unlock the lock on the mobile phone.
It can be used with indoor screen. The indoor screen can actively monitor the real-time monitoring screen of the door, and can also unlock the door. When someone comes to visit, the indoor screen can conduct video intercom with the visitor and unlock the door for the visitor.
It is suitable for multi-user scenarios in a building. The multi-user address book can be customized on the face recognition video intercom. Each family is equipped with an indoor screen, and visitors will be automatically assigned to the corresponding user mobile APP.
Specification
Special Features

Motion Detection, RESET, Alarm I/O, Waterproof / Weatherproof, Two-way Audio, NIGHT VISION, Built-in Siren, Other

Customized support

Software reengineering, OEM, ODM, Customized logo, Online technical support

Place of Origin

China

Guangdong

Brand Name

LIKEPAI

Model Number

H8Tuya

Type

Face, Other

Recognition function

Name recognition, ID recognition, mask recognition

APP

TuyaSmart and SmartLife

Network Configuration

DHCP, static manual settings

Connection method

LAN as default/ Wi-Fi & 4G are optional

Housing material

Aluminum alloy, surface sandblasting process

Operation method

Full screen touch, tempered glass material panel

Resolution

800*1280

Screen display

8-inch HD IPS display

CPU

RV1109 Dual-core Cortex-A7 and RISC-V MCU

Camera

Dual 2MP lens, support backlight environment

Video decoding

H264/720P/1080P

Audio decoding

G.711

Waterproof level

IP65

Ringing

≥70dB

Working voltage

DC 12V2A

Working Current

400mA

Working temperature

-30ºC ~ +70ºC

Device Size

270mm*132mm*20mm

Operating System

Linux

Language

English as default (Other languages customization available)

Face Capacity

2,000 ID

Card capacity

2,000 IC Cards

Password Unlock

Support

Recognition function

Name recognition, ID recognition, mask recognition

Recognition accuracy

99.7%

Recognition speed

≥1 second

Intelligent function

Infrared live identification detection

Upgrade

Support online update OTA upgrade

Alarm

Support stay alarm

Clock

Support RTC, NTC Internet time correction

Guarding mechanism

Anti-demolition design,
to ensure the stability of equipment operation

Recognition distance

Pure dynamic identification; 0.5-3 meters;
Enable infrared live detection; 0.5-1 meters
FAQ
Can a video intercom host be used with multiple indoor screens?

Yes, yes, you can use one host with multiple extensions, or multiple hosts with multiple extensions.

What linkage unlocking methods are supported?

1. Face recognition unlocking. 2. Link indoor screen to unlock remotely. 3. APP remote unlocking. 4. Swipe the card to unlock. 5. Password unlock.

The number of Face Capacity that can be entered

2000 ID

Number of Card capacity supported for entry

2000 IC Cards

Is the TUYA face recognition intercom host waterproof?

YES.

What is the recommended installation height and camera viewing angle?

The recommended installation height is 1.4M and above. The viewing angle of the face recognition host camera is 67 degrees.

What is the operating temperature range?

-30ºC ~ +70ºC.The measured low temperature is -40 degrees during normal power-on work.

Does it support POE power supply?

YES, the indoor screen supports POE power supply. If the face video intercom host is not linked to the electric lock, it can also be powered by POE. If you want to power the host and the electric lock at the same time, you need to use a dedicated unlocking access control power supply to supply power together.